Composite Carbon Fiber Cello Cases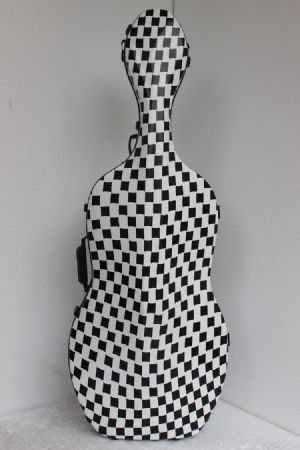 New design composite carbon fiber cello cases modeled after the sought after BAM 1005XL. Same light weight but at 35% the minimum retail $2300 cost of the BAM!
Beautiful, precision crafted hermetically sealed cello case with several patterns and colors available (see photos). Lightweight (8 lbs), strong and adaptable to most all 4/4 cello shapes – even the wide Montagnana. The inner padding is attached with Velcro, enabling these pads to be moved to fit the curves of your cello. Stationary padding is installed to suspend cello at critical stress points and isolate cello from contact with inner case. An interior pocket for spare strings is also included. Recessed wheels and three strategically located carry-handles are provided for ease of rolling. Also provided are backpack-style shoulder straps.
Lightweight, strong, high quality manufacture. Currently, checkerboard and light and dark gray colors in stock. Others by special order.
valued at $850
note: we have a couple manufacturer seconds in the checkerboard pattern with slight pattern irregularities. Mechanically they are perfect. Only minor superficial pattern distortion.These are specially priced while they last at $700.